Battlefield 2142 Patch 1.5 Out now!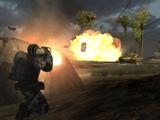 The new BF2142 patch is out and it's a massive 525 MB!

Download it from EA here: Battlefield 2142 1.5 Patch

The official release data from EA is as follows:

After a successful open beta phase of Battlefield 2142 Update 1.50 and tweaks and updates being made based on feedback on the forums we have released the final version of Battlefield 2142 Update 1.50. Servers are being updated and the client files are now available for you to update and get into the new content.

As we mentioned with the Beta release we have added a number of new features and added new content to Update 1.50

FEATURES

- Added community maps, Wake Island 2142 and Operation Shingle
- Added the ability to use widescreen resolutions.
- Added No Vehicles mode.
- Added Conquest Assault mode.
- Changed the volume control for the Commander Voice Over on request of the esports community.
- Changes made to pod steering mechanism to improve control while limiting pod surfing.

FIXES

- Fixed the loading issue caused by corrupt Radial.cdb file
- Various changes made to prevent cheating.

Both The Sir. Community (www.sircommunity.com) and Jason Brice (www.MGXCLAN.com) have been hard at work implementing feedback from the Beta to improve and tweak their maps for final release.

WAKE ISLAND 2142 & OPERATION SHINGLE
Battlefield 2142: Northern Strike Latest News!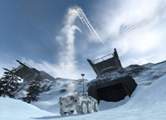 Here is some more news on the upcoming release of Northern Strike :-

Battlefield 2142™: Northern Strike introduces two new vehicle types. The heavy IFV Goliath is a massive, slow-moving firing platform available to the EU. It is used to provide cover, as well as health and ammunition, to nearby infantry. The fast-moving hovering light IFV Hachimoto, available to the defending PAC only, is an efficient vehicle killer when staffed by a well coordinated pilot/gunner team.

With ten new unlocks and ten new awards, Battlefield 2142™: Northern Strike offers unprecedented persistence for a Booster Pack. The epic Titan mode introduced in Battlefield 2142™ is available on two maps, and for the first time in an urban setting. All maps also feature Conquest mode with the Conquest Assault Lines set-up, in which the attacking army now has to conquer all control points before taking the enemy's main base.
Key Features

* Fast–paced, infantry-focused gameplay boosts the intensity of the all-out war experience.
* Three new maps set in Europe, where snow-covered post-apocalyptic cities and a ridge in the Alps become the new battlegrounds.
* Two brand-new vehicles designed to support infantry combat available in an asymmetrical set-up, with the hovering light IFV Hachimoto available to the PAC and the massive heavy IFV Goliath available to the EU.
* Increased persistence. Ten new rewards, one new pin and ten new unlock items at the top of the unlocks trees, available also on core game maps, take persistence to new levels. Unlock credits earned in the booster pack can also be used in the core game.
* Epic Titan mode available on two maps, and for the first time in a urban setting, for more intense Titan gameplay.
* Tweaked Conquest-assault gameplay (Assault Lines game mode) on all three maps creates more choke points and more heated battles.
* Horizontal podding gives infantry additional ways of moving across the maps quickly




Battlefield 2142: Northern Strike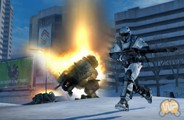 Just found this on the EA website:

"Today we would like to announce to all our players the coming release of the Battlefield 2142 Northern Strike booster pack! There is a press release going out tomorrow, along with a trailer showing the action in one of the new maps.

This addition to the Battlefield universe contains new content to expand the war for the survival deep into the frigid wastelands of Europe.

With three new maps players will be challenged to engage in Titan and Conquest game play to secure victory for their team. Both sides have brought forward new vehicles to aid their forces along with 10 new unlocks available to soldiers through both standard and field unlock systems. We also wanted to inform players that we will be working with Combat Studios Testing to host a closed beta in the near future."

So basically we'll definately be getting this as it looks sweet!
|SFH| Battlefield 2142 Test Server Now Up
We have created a BF2142 test server to confirm if our existing hardware can cope. Its unranked and 16 players only but should suffice for now! Lets see how it goes!

Details are of course updated on the BF2142 team page and the server list, but as I'm nice Ive posted em below as well!



Battlefield 2142|SFH| BF2142 www.sentfromhell.co.ukIP: 85.234.152.59:16567:29900



Battlefield 2142 - The Game of Choice!

After some discussion it has been decided that the |SFH| Battlefield squad will concentrate its efforts in the BF2142 arena only... We will still be playing BF2 for fun, but clan play will be based around Battlefield 2142. Plans are now in operation to be able to provide a dedicated BF2142 server by January.

If you are interested in joining and/or helping to run the squad, please sign up to the forums now and post your interest in the recruitment section which can be found here:


Promotion and latest news!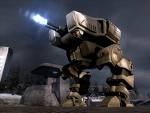 Congratulations to [D]esert Punk on being promoted to Battlefield 2/2142 clan team leader! Scotman has had to step down due to personal reasons, we wish him well...

[D]esert will be doing his best to get things moving asap and will be recruiting heavily over the next few weeks. We will also be looking to run a new Battlefied 2142 clan server at the beginning of 2007 when we upgrade the h/w on our kit.

If you are interested in joining and/or helping to run the squad, please sign up to the forums now and post your interest in the recruitment section which can be found here:




Copyright ©2002-2022 Alex Galbraith
Version 2.2 Build 10